Each year on Easter Saturday, Jeremy Hazell joins a team of runners participating in the 21km Old Mutual Two Oceans Marathon, in support of The Rachel Swart Fund, an NPO which supports people with physical disabilities from disadvantaged communities.

  Please support Jeremy's efforts in 2017, and donate here.
Two Oceans Half Marathon 2017
Jeremy is looking forward to participating once again in the 21km Old Mutual Two Oceans Marathon, on Saturday 15 April 2017, in support of The Rachel Swart Fund's OMTOM Campaign 2017.
Two Oceans Half Marathon 2016
Sadly, Jeremy was unable to participate in the OMTOM Half Marathon in 2016 due to ill health. However The Rachel Swart Fund's charity running team had his full support and encouragement, and he was at the finish to cheer them home.
Two Oceans Half Marathon 2015
On Saturday, 4 April 2015, Jeremy finished the 21km Old Mutual Two Oceans Marathon, in a time of 2h51m. He raised almost R20 000 for The Rachel Swart Fund, and his contribution to the OMTOM Campaign 2015 helped two worthy recipients to receive new motorised wheelchairs.
Two Oceans Ultra Marathon 2014 | 56km in a Wheelchair!
On Easter Saturday, 19 April 2014, Jeremy made history by becoming the first person to complete the 56km Old Mutual Two Oceans Marathon in a regular day wheelchair, fitted only with a third accessory wheel for improved steering and manoeuvrability. He did this despite the absurd OMTOM Ultra Marathon Wheelchair Policy, finishing proudly well ahead of the 7-hour cutoff time, in 6h40m.
In doing this, he raised more than R85 000 for The Rachel Swart Fund, enabling motorised wheelchairs to be purchased for needy applicants.
Background
Jeremy, 65, was an active outdoorsman and lover of the mountains when he was paralysed in a fall on Table Mountain in 1998. He has been a wheelchair user ever since. After 13 years of inactivity and declining health Jeremy was inspired by a Tim Noakes article on the now famous LCHF (low-carb high-fat) Banting diet to revitalise his health and start exercising seriously, losing 30 kg in the process.
The Old Mutual Two Oceans Marathon (OMTOM) presented Jeremy with the greatest athletic challenge he had undertaken since his accident. Fittingly the 56km Ultra Marathon route crisscrosses the Table Mountain chain, where he pitted his physical, emotional and mental strength against his nemesis.
In 2012, despite missing the cutoff time in appallingly wild, wet and windy conditions, Jeremy completed the OMTOM Half Marathon course (21 km). In doing so, he raised in excess of R50,000 for Senecio, an organisation which provides support for people with disabilities from underprivileged communities in the Helderberg region.
Undaunted, Jeremy returned to finish the 2013 OMTOM Half Marathon in 2h45m.  In the interim and since then, he has also participated in a number of other half marathons and events of varying distances, some involving rough and gravelly terrain. A significant highlight, in February 2013, was Jeremy's finishing the full Peninsula Marathon (42 km) in a time of 4h41m. On 16 February 2014 he repeated that feat in much hotter and windier conditions, completing the Peninsula Marathon in 4h38m, thereby qualifying his entry for the Old Mutual Two Oceans Marathon in 2014.
Jeremy completed the OMTOM Half Marathon once more in 2015.
During events, Jeremy uses a clip-on third wheel called a FreeWheel, but does not use a racing wheelchair. From 2013 to 2016, Jeremy participated as a member of the Chaeli Sports & Recreation Club, in their distinctive purple colours. Jeremy is now a member of Maties ParaSport, though he remains a staunch supporter of The Chaeli Campaign.
Jeremy says, "I am inspired by the many disabled people who live out the motto that they prefer to be known for what they can do rather than by what they can't do. I hope that my taking on these physical challenges will inspire people to donate generously to this very worthy cause, enabling those less fortunate than others of us to access their abilities."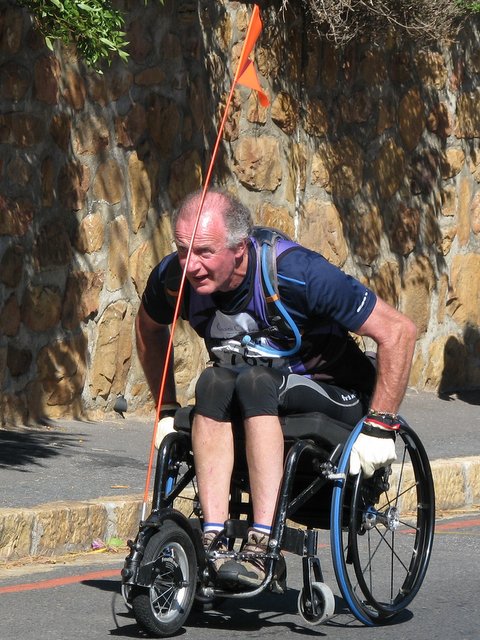 Work
In his professional life, Jeremy works as a consultant in the field of access auditing of the built environment.