Donations raised by Jeremy in 2014 enabled The Rachel Swart Fund to supply a number of needy applicants with motorised wheelchairs, which have dramatically enhanced their lives. Here are some of their stories.
Franki Smith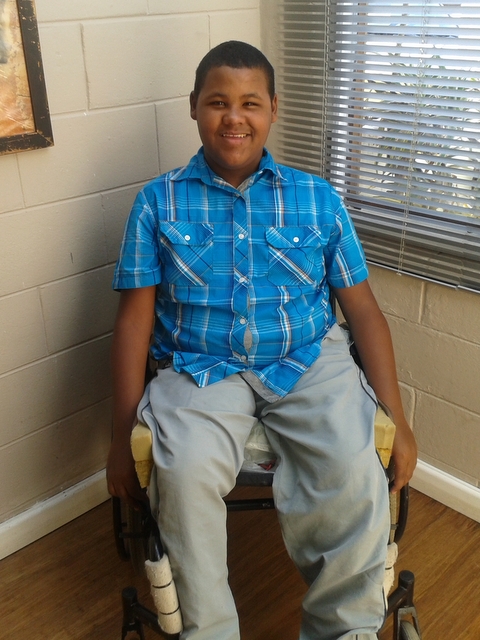 Franki is a vibrant 13-year-old boy who has Duchenne Muscular Mystrophy (DMD), a condition which causes muscle weakness. Franki has not been able to go school since 2009 because of his disability. His mother stays home to look after him as alternative care is too expensive for the family. Franki's mother homeschools him and other children in their community who also have learning difficulties and are unable to cope at school.
Franki previously used a manual chair but found it very difficult to propel himself as his arms are very weak. Having a motorised wheelchair brings Franki the joy of independence and the freedom to move around by himself without having to wait for his mother or other family members to push him. He lives in a fairly quiet neighbourhood in Retreat where the terrain is suitable for him to move around outside with other playing children.
Franki's family members are very involved in their church. They host Sunday services in their home, and children in the community come to their home on Friday evenings for a youth programme. This is a labour of love, as their home is very small. Franki's father works from home running his own business, but the family could not afford the motorised wheelchair that Franki needed.
Johanna Jacobs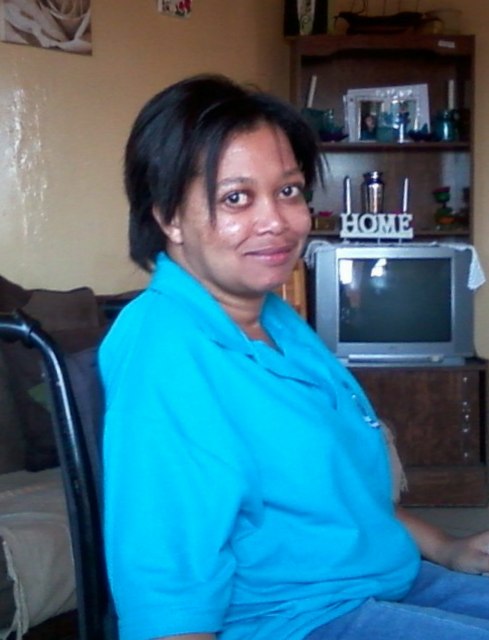 Johanna is a 43-year-old woman who has Peripheral Polyneuropathy, a condition involving nerve damage in the peripheral nervous system. She lives in Diazville in Saldanha Bay with her sister and family of six. She is unable to walk and has very limited upper body mobility.
Johanna is a proud peer supporter of the West Coast Association for Persons with Disabilities, a non-profit organisation rendering services to persons with disabilities. The Peer Support Programme is a pioneering project in which people with disabilities provide support and training to their peers in the community. Over the past year Johanna has conducted over 80 home visits in her community, providing support and training to her peers. She has run groups under initiatives to try and raise awareness of the needs of people with disabilities in Diazville. She is one of the strongest peer supporters, and is a role model to other peer supporters in the area.
One of Johanna's biggest challenges was having to use a manual chair, which made it extremely difficult for her to move around independently. As a result she was forced to stop her peer support visits, and was limited to providing only telephonic support, from the APD offices, to those who are isolated.
Johanna receives a small contribution from the APD for her Peer Support work. She uses this and her disability grant to support her family. She is very passionate about her Peer Support work and has recently attended Transformational Leadership and Advocacy Training at the University of Cape Town. She will be participating in Community-Based Rehabilitation (CBR) training in March 2014 to further develop her skills as a peer supporter.
Receiving a motorised wheelchair has broken down the barriers Johanna faces in making her truly admirable contribution to society.
Christine Timotheus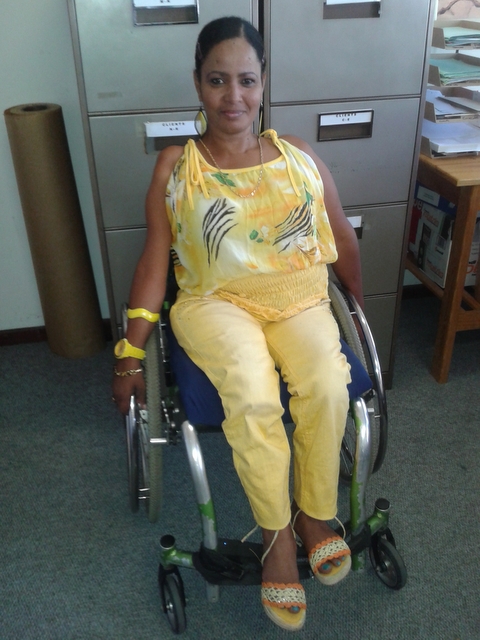 Christine was born a healthy baby, but at 18 months she contracted Polio and has lived with various mobility challenges ever since. She grew up in the St Joseph's Home for Children, a home for chronically ill children in Montana, Cape Town.  As a child she wore callipers on her legs and walked with crutches.
Christine started to use a manual wheelchair when she was 18. At 50, she found it increasingly difficult to propel herself for long distances. Christine is very enthusiastic and determined to live a full and productive life despite her disability. She has a 9-year-old son who she cares for alone, and a motorised wheelchair is of great benefit when they go out together on weekends.
Christine has applied to various hospitals hoping to secure a position as a Receptionist. A motorised wheelchair makes the daily realities of employment far less daunting, as she is able to move around independently in carrying out her tasks.